...and this time
the question that Fuji asked
was:
"What are your all-time favorite products to collect in each sport?"
By 'products' I assume that he is looking for a 'card set' so I'll stick to that. That makes a difference because my favorite things to collect are not necessarily cards.
Anyway in baseball my favorite product would be the Topps 1960 set. I have mentioned that and did so just the other day in a comment on Fuji's blog:
I loved that 1960 set. It was very colorful and I really dug the rookie cards and the manager cards. There was something about the backs that drew me in, too. The gold and white color scheme and the 'Season Highlights' were fascinating to me.

I'll NEVER forget a kid at school whose parents had bought him a whole box of packs of the 1960s. I couldn't get over how lucky he was.
In football it would be the 1990 Pro Set. Easy to buy by the pack at my local grocery, cheap so the kids at my school could buy 'em as well. I put together the set a card at a time. Had a lot of fun doing it. Plus, they are nice looking, at least I think so. This set got me back into collecting football.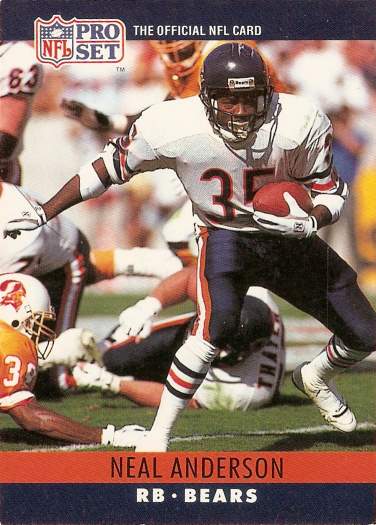 Hockey? I collect that, too. But I don't have many cards. Most are vintage Rangers I've sniped off eBay here and there. No hockey cards survived my childhood. The only ones I even remember having were late 60's post expansion Topps cards. I do have the 77-78 WHA set. It's pretty crappy but I was a huge Aeros fan back then and the set was fun to put together a few months ago.
Here is the Frank Mahovlich card from the Topps OPC* 68/69 set. Most gawdawful thing, isn't it? They stuck his head on another player's body and hoped no one would notice.
edit...Fuji's next question was "What is the ugliest set you've ever seen?" This is it. The Topps 68/69 Hockey. Poorly cropped posed shots, generic sketched backgrounds. It's worse than the 1990 Topps baseball set (although not by much).
*=thanks for the correction 1967ers